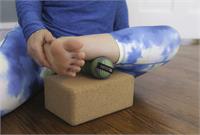 Thursdays 5/20-6/10 (4 weeks) 6:30-7:30pm
Livestreamed & recorded.  Zoom links will be emailed 60 minutes prior and recordings are available for the duration of the series.
This 60-minute class blends self-massage/self myofascial release (SMFR) and movement exercises that build both stability and flexibility. A typical class includes SMFR, breath-based movement, strengthening/stabilizing exercises, a cool down and savasana. If your goal is to live more comfortably in your body no matter what kind of movement you like to do, this class is for you. All levels are welcome, but please note that this class is not a "gentle" class.
Props needed:
Various Yoga Tune Up® therapy balls. (Available on Amazon).
Yoga mat, blocks, strap/belt/towel
Cost:  $15 drop in/class or *included in memberships & class cards